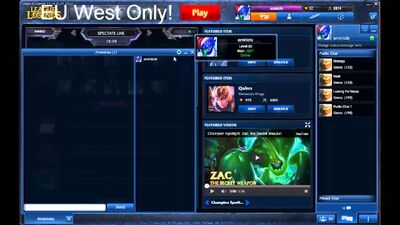 What is the Chatroom?
The Chatroom is available in the famous videogame, a MOBA(Multiplayer Online Battle Arena), League of Legends, by joining it. The Chatroom is always online and free, what means everybody can join,even if it is only for questions or just to chat. There are no administrators or mods(mostly because it's impossible to give people modding qualities), but nobody likes flamers, etc. so everybody is happy, if you could refrain from that. There are always nice people and old members of the Family online, so there are always people to talk to if you want to play or just wanna chat or maybe even play with some of us. Aminizle sometimes uses the Chatroom for subscriber games, so if you are online and watching his stream(not required, but adviced) and he's making a subscriber game, just join the Chatroom and maybe you will get an invitation. GL & HF.
Important information
Edit
The Chatroom is only available on the EU West Server, so you can't join when you are logged in to the North America or other Servers. 
The Chatroom language is normally English, not German, not Dutch or another language. Short chats in your language are allowed, but don't spam the Chatroom. GL & HF.